YM Geography
It is our intent for the Geography element of our school curriculum to provide children with the opportunity to explore and discover the world around them from their very own classroom, school grounds and local area. We want our children to understand how Geography has shaped their lives and the world today. Continuing to build on their knowledge, we hope that the children will continue to be interested in the developments of our planet throughout their life. We want our children to have a good understanding of locational knowledge and have an understanding of where places are and what they are like. As children progress through the school, they develop knowledge of the world around them and can also think about their local area and its place within the wider world. Additionally, we aim that our children will have the ability to form opinions, take responsibility and share an understanding about current and contemporary issues in society and the environment. By revisiting these areas of learning regularly children will remember more, know more and understand more. At the centre of our curriculum are the Yeo Moor Curriculum Dimensions of DIVERSITY, EQUALITY, COMMUNITY, WELL-BEING and SUSTAINABILITY. These 'golden threads' will provide coherence & progression and build cultural capital.
Every Yeo Moor Geographer will:
develop contextual knowledge of the location of globally significant places – both terrestrial and marine – including their defining physical and human characteristics and how these provide a geographical context for understanding the actions of processes
understand the processes that give rise to key physical and human geographical features of the world, how these are interdependent and how they bring about spatial variation and change over time
are competent in the geographical skills needed to:
collect, analyse and communicate with a range of data gathered through experiences of fieldwork that deepen their understanding of geographical processes
interpret a range of sources of geographical information, including maps, diagrams, globes, aerial photographs and Geographical Information Systems (GIS)
communicate geographical information in a variety of ways, including through maps, numerical and quantitative skills and writing at length.
Rationale
Our high-quality geography education will inspire in pupils a curiosity and fascination about the world and its people that will remain with them for the rest of their lives. Teaching will equip pupils with knowledge about diverse places, people, resources and natural and human environments, together with a deep understanding of the Earth's key physical and human processes. As pupils progress, their growing knowledge about the world will help them to deepen their understanding of the interaction between physical and human processes, and of the formation and use of landscapes and environments. Geographical knowledge, understanding and skills provide the frameworks and approaches that explain how the Earth's features at different scales are shaped, interconnected and change over time.
Knowledge Choice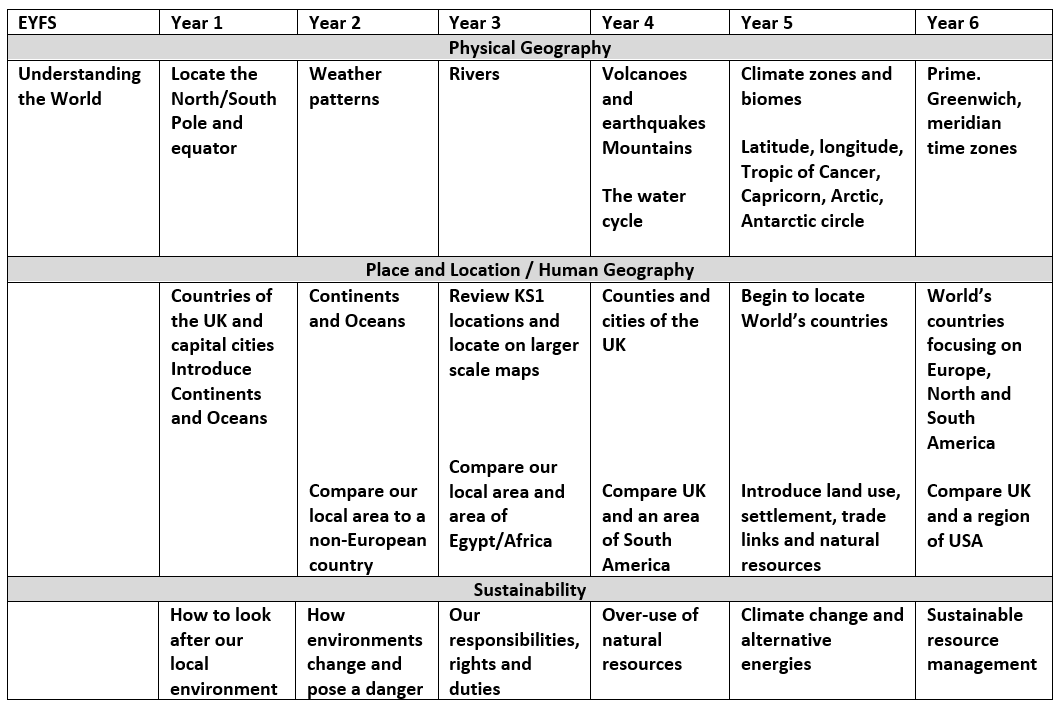 At Yeo Moor, our Reading Inspiring Writing approach means that initial interest and curiosity is aroused through a quality text. We break Geography down into 5 strands which encompass all of the National Curriculum objectives. These strands are: Physical Geography, Studies involving place and location, Human Geography, Studies involving sustainability and Enquiry. Enquiry has it's own knowledge organisers progressively setting out this skill across the school. There are also assessment tasks linked to this strand. The Yeo Moor dimensions of DIVERSITY, EQUALITY, COMMUNITY, WELL-BEING and SUSTAINABILITY that children explore, are re-visited in different units allowing children to build on prior learning and apply new knowledge to the concept in order to prepare them for future learning and life. Earth Day will be celebrated in April each year. However, SUSTAINABILITY will be an important part of each year group's studies.
End Points:
Key Stage 1
Pupils should develop knowledge about the world, the United Kingdom and their locality. They should understand basic subject-specific vocabulary relating to human and physical geography and begin to use geographical skills, including first-hand observation, to enhance their awareness of location.
Key stage 2
Pupils should extend their knowledge and understanding beyond the local area to include the United Kingdom and Europe, North and South America. This will include the location and characteristics of a range of the world's most significant human and physical features. They should develop their use of geographical knowledge, understanding and skills to enhance their location and place knowledge.
Inspiration: